Fall is finally here, bringing with it an enchanting transformation of vibrant colors and of course, the most exciting holiday of all: Halloween! Transform your home into a spooky and cozy oasis with this season's hottest decorations. Pumpkins, flowers, and other imaginative ideas will create a magical atmosphere and will set your house apart from all the others. Get creative and explore these fun and inspiring Halloween and Fall decorations to liven up your home.
1. Halloween Porch Display

This front porch scene mixes the traditional elements of pumpkins with lanterns. You can place battery lit candles in the lanterns to create a warm glow.
Supplies
Directions
Arrange your lanterns and pumpkins by layering them together. Place your bunting in the background and layer crates and planters with pumpkins.
2. Stacked Pumpkin Topiary

A Stacked Pumpkin Topiary will easily bring your porch from fall to Halloween.
Supplies
hot glue gun
black planter
faux pumpkins (small, medium, large)
sharp knife
super glue
Directions
Superglue the large pumpkin to the planter. Carve small holes just large enough to fit over the stems on the medium and small pumpkins. Place the medium pumpkin on top of the large pumpkin, superglue in place.
3. Fall Tomato Cage Tree

An upside down tomato cage is covered with clear lights (orange would be nice too), and
leaves garlands. It looks gorgeous on the porch when plugged in at night.
Supplies
Tomato Cage
Leaf Garlands
Battery operated fairy Lights
Directions
The top legs of the cage should be cut off. Wrap the cage with leaves, and attach the leaves and lights using a spool of twist ties.
4. Tomato Cage Pumpkin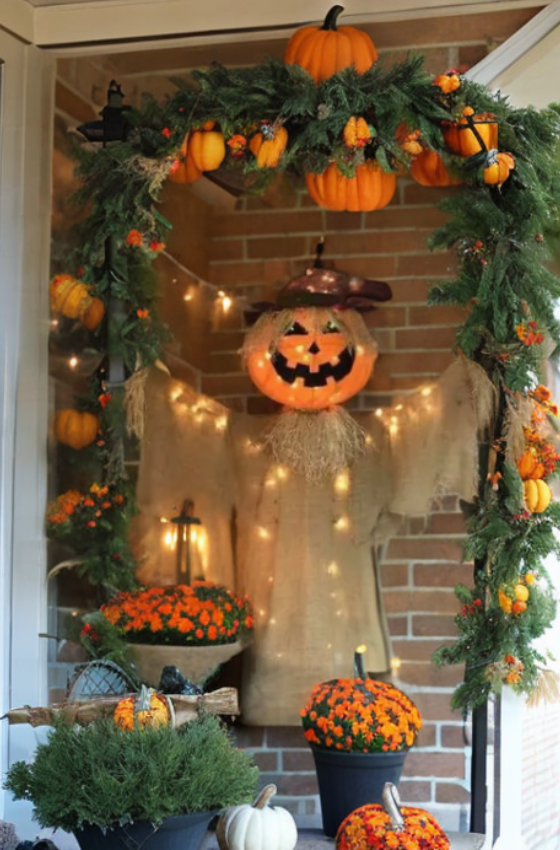 This pumpkin tomato cage design is perfect for your your porch and can look sweet or scary depending on your style. To recreate this Tomato cage pumpkin you will need:
Supplies
Tomato cage
gunny sacks
fairy lights
pumpkin candy pail
Directions
Using some fairy lights, layer the tomato cage, then use wire or branches for arms. Over this, place the gunny sack and purchase straw for scarecrow costumes as hands. The pumpkin candy pail is for the head.
5. Tomato Cage Ghosts

You can make these adorable Ghosts using mostly dollar store supplies.
Supplies
Tomato cage
clear plastic bowl
white round tablecloth
fairy lights
styrofoam block
Directions
Assemble the round head of the ghost by using the styrofoam block and a clear plastic bowl with some hot glue and use generous dollops of hot glue in the corners. Stick it to a tomato cage upside down. Stick the fairy lights to the cage with twist ties or hot glue. Wrap them around the tomato cage. Then cover it all with a white tablecloth from the dollar store. Cut out eyes and a mouth from black felt and attach them with hot glue. Cut the bottom of the tablecloth into strips to give the bottom of the ghost a raggedy look.
6. Propane Tank Jack O' Lantern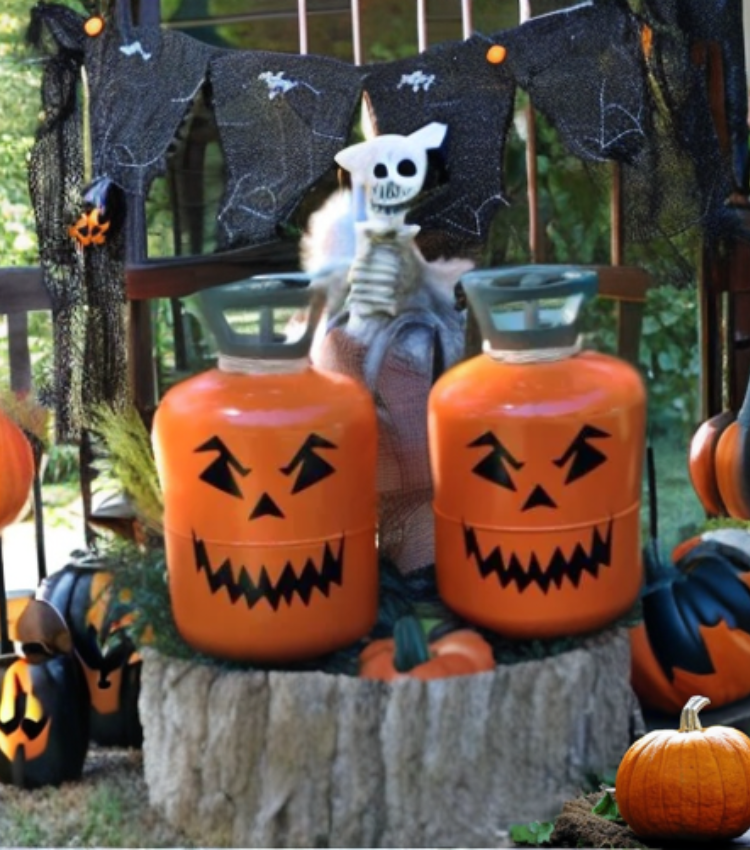 Repurpose a Propane Tank into a spooky Jack O' Lantern with the use of spray paint. You can find a paper template online to create the face and use black spray paint for this.
7. Lighted Display

Create a warm and welcoming display by layering up different sized pumpkins on hay bales and adding fairy lights.
8. Hocus Pocus Pumpkin Stand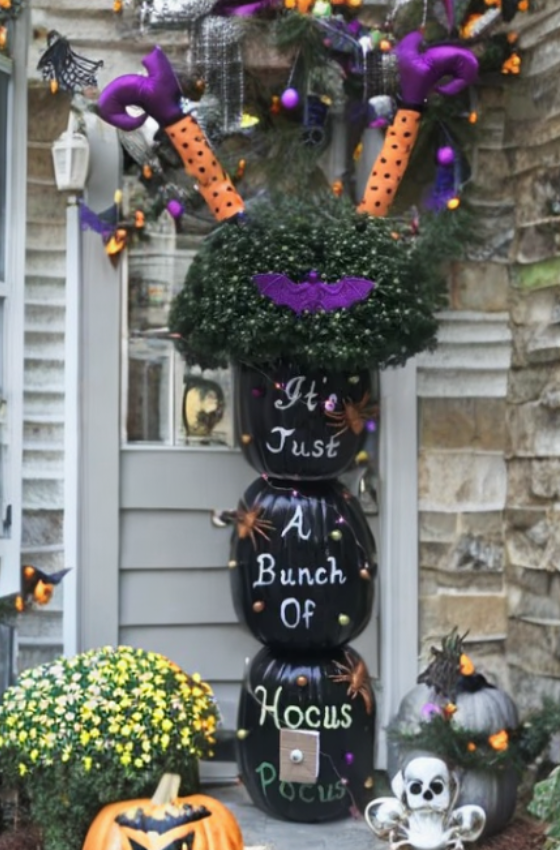 Adding witches legs to a pumpkin topiary is a fun way to add a whimsical touch to your Halloween decor.
9. Pumpkin Planters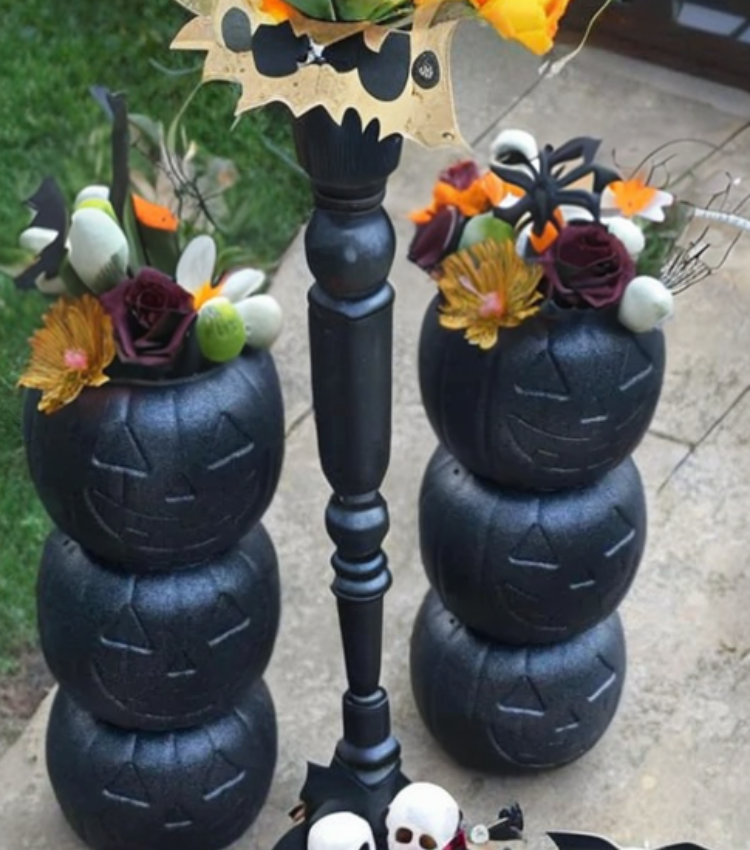 Make cute displays py purchasing Hallowwen candy pails from the dollar store and spray painting them black. You can then put Halloween colored flowers and arrangements in them.
10. Repurposed Tide Pod Pumpkins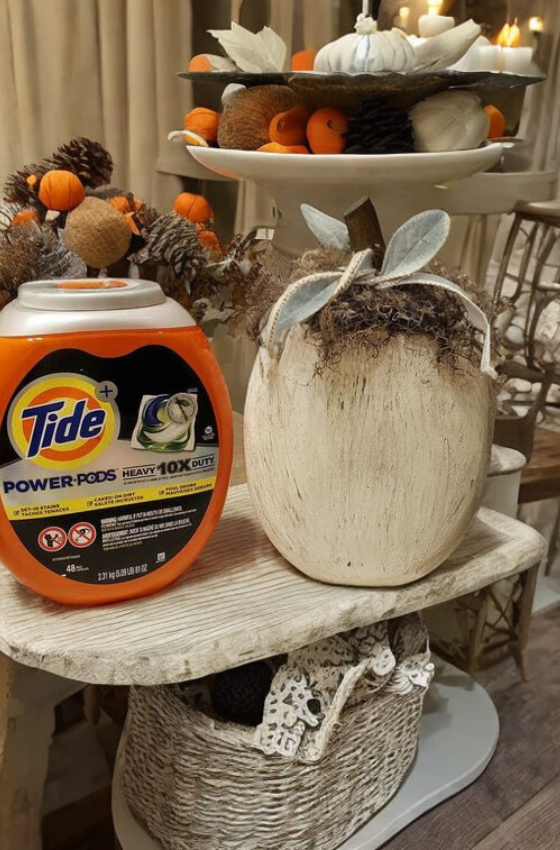 Transform empty tide pods into pumpkins with clay paint or chalk paint.