Eager to turn your pumpkin into an adorably creative statement piece this Halloween? Look no further than the oh-so-cute Pink Pig! From Three Little Pigs to Peppa Pig, children's tales are full of inspiration for no-carve pumpkin ideas. Get the kids involved in your next holiday decoration project and show off your pumpkin pig with pride. With so many tales to draw inspiration from, you'll be sure to make a unique pumpkin that celebrates this fun-filled holiday. You can choose between using real pumpkins or faux versions so that they will be arpund fpr longer. So what are you waiting for ? Take inspiration from these adorable piggy pumpkin ideas.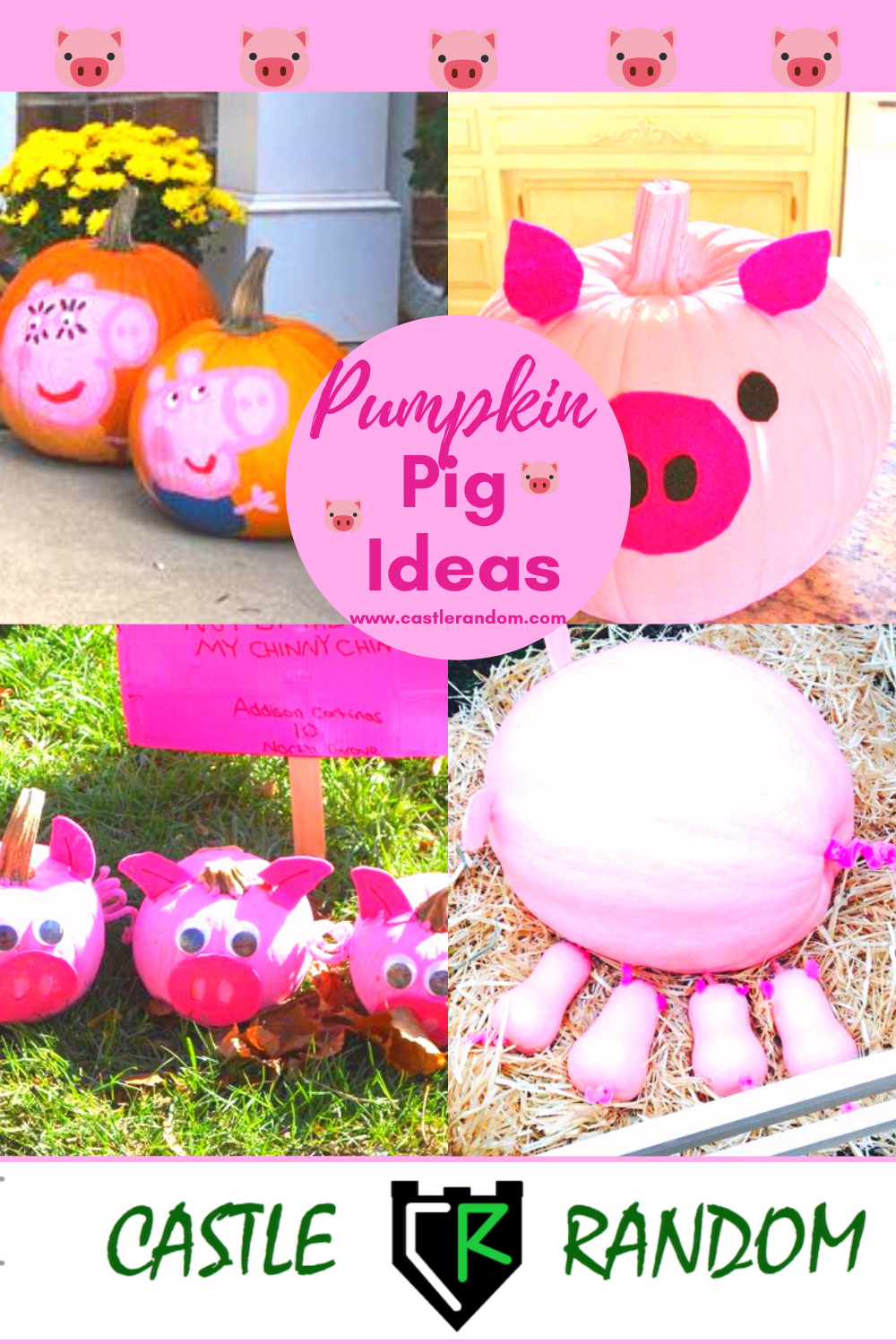 1. Miss Piggy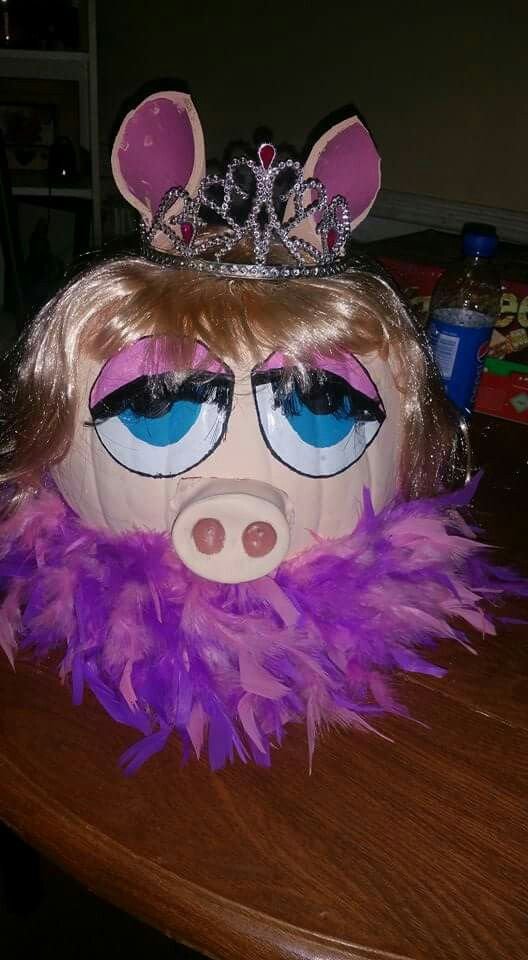 Miss Piggy's face is a perfect canvas for your jack-o-lantern-designing skills, as her sassy expression can draw a smile from even the toughest of critics. Begin by painting your pumpkin pink and allow to dry. You can then add details such as the eyes and nose. Finish with a wig and a crown to show off Miss Piggy's glamour.
2. Pua and Kakamora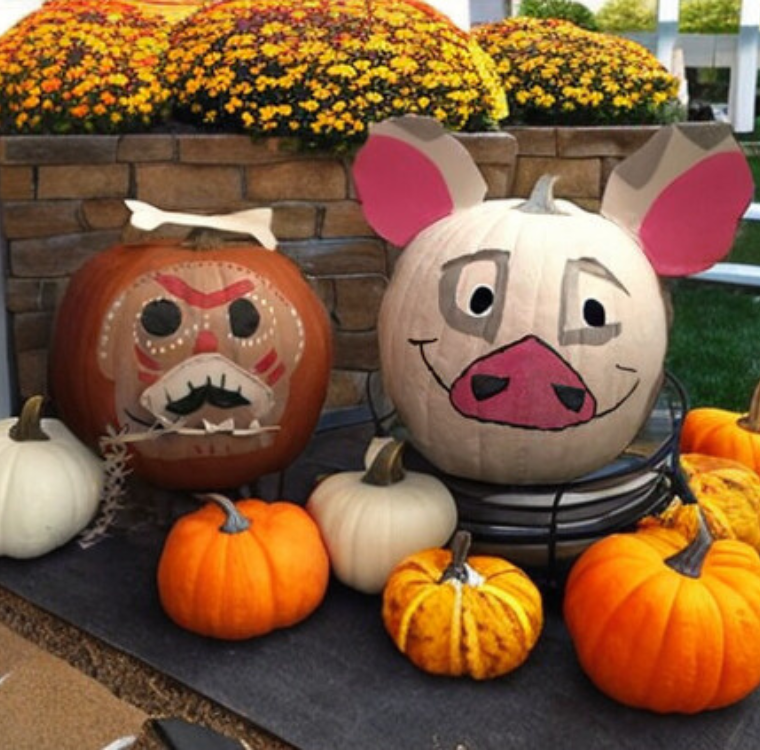 For Moana fans – these Pua the pig and Kakamora painted pumpkins are ideal. Avvessorize them with felt and paper ears accordingly. You can look up pictures in order to perfect your design or find templates online. These would also make a great addition to your Thanksgiving Tablescape Ideas.
3. Pink Piggy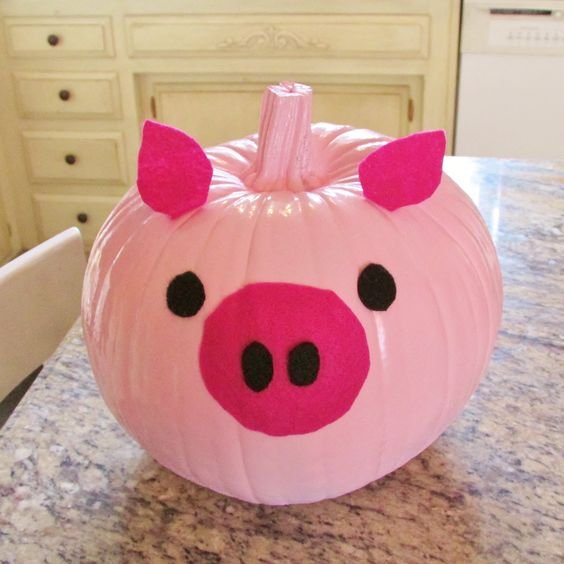 To make your own Pink Piggy, you'll need your favorite variety of pumpkin, some acrylic paints, and a few accessories to create the signature snout and tail. Use pink and white to make the piggy, or mix and match colors to make your own unique creation.
4. Peppa Pig

A Peppa pig pumpkin is perfect for little ones who love this cartoon and what's more they will have so much fun helping to make it. Use large googly eyes and have the kids paint a styrofoam cup pink to make the snout. Finally you can cut out pink circles for the cheeks and stick them on.
5. Pumpkin Pig Pen

Create an adorable fall scene with this Pumpkin pig pen made from a crate and hey while butternut squashes painted pink make the 'piglets'.
6. Peppa Pig Pumpkin Family

For a creative way to decorate your porch for fall and Halloween, a Peppa Pig pumpkin family is a great option, especially if you have kids that love the cartoon. You can paint Mommy and Daddy Pig on bigger pumpkins and use smaller ones for Peppa and her brother George.
7. Little Piggy

This adorable little piggy pumpkin is made from an array of different pumpkins with the smallest ones used for the snout and feet. You can glue them all together first and allow to dry. Then paint it pink to complete.
8. Three Little Pigs

Take inspiration from a childhood favorite – Three Little pigs and paint your pumpkins just like them. You could turn this into a whole activity and tell little ones the story while getting them to paint their piggy no carve pumpkins.
9. Pig & Penguin Pumpkins

Pig & Penguin Pumpkins make an adorable team to guard your porch! You can use faux pumpkins to make them so that you will have them for years to come.
10. Wilbur

For fans of the book Charlotte's Web – you can paint a piggy pumpkin to look like Wilbur. To make a pen, use a cardboard box and add some hay.

A pumpkin piggy and her baby make for an adorable decoration. Make a nose made from a styrofoam cup which is painted pink and use pink pipe cleaners to make the curly tails.

This Peppa Pig pumpkin is ready for muddy puddles! Little ones will love helping to bring this Peppa pig pumpkin to life.