Ready to make a statement at school? No need to break the bank. These easy crafts are perfect for customizing your school supplies and expressing your creativity – all without breaking the bank. From personalized pencil cases to colorfully decorated notebook covers, let's get crafting and make this back-to-school season truly unique. With these crafty DIYs, you'll find yourself impressing your classmates in no time!
1. Chalkboard Crayon Wreath

Craft a unique teacher gift for the upcoming school year with this crayon wreath!
Supplies
Wreath Form
Crayons
Glue Gun
chalkboard
other decorations such as school bus
Directions
Start by hot gluing your crayons to the wreath form. Once you are happy that your wreath is covered you can then glue on your chalkboard on top of this. Glue a bow to the top and a piece of ribbon to the back for hanging, and your project is complete.
2. Chalkboard Painted Clay Pots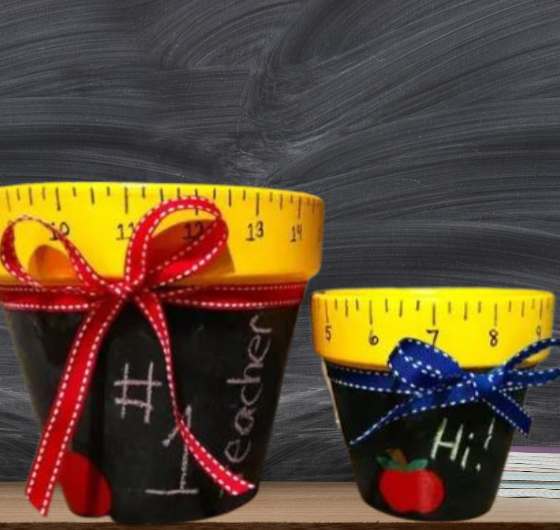 Chalkboard painted clay pots make delightful gifts that kids can easily craft for their favorite teacher.
Supplies
Terra Cotta flower pot
Chalkboard paint
Yellow acrylic paint
Paint brushes
Black sharpie
Chalk
Directions
Starting with the rim bare, apply a coat of paint in vertical strokes, let dry for an hour, then apply a second coat horizontally and let cure for 24 hours. For spray chalkboard paint, just follow the instructions on the can. To finish, paint the rim and part of the inside yellow, stopping just below the dirt line. Use a sharpie to draw lines around the rim for a pop of style. You'll have a unique and customized flower pot in no time.
3. Pencil Frame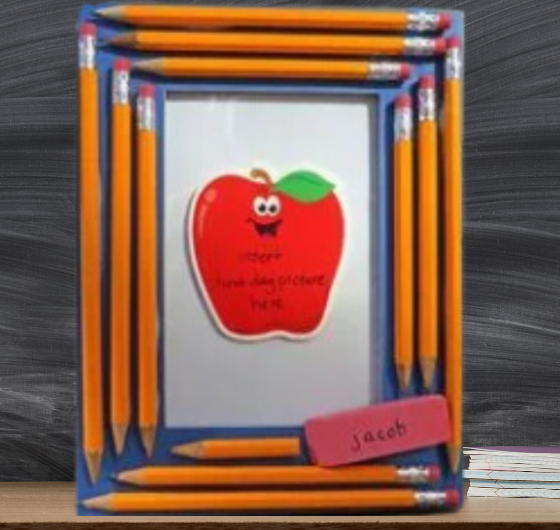 Create a meaningful teacher's gift that'll last way beyond the school year. Make this fun and crafty Back to School Frame out of pencils!
Supplies
Picture frame
12 pencils
Pencil sharpener
Hack sawHot glue
Directions
Place the pencils on your frame and mark where they need to end. Use a hacksaw to cut off the extra pieces and save yourself time spent sharpening them. Each size requires two pencils; to hold them in place, use a table saw to secure them. Use hot glue to lock them into place, holding a few dots on the back of each pencil.
4. DIY Bookmarks

Create something special for your kid's school supplies this year! Make fun and practical DIY bookmarks! You only need some colorful paper, scissors and glue. If you want to get creative, look online for free bookmark templates to cut into shapes like stars, rectangles, hearts or animals. Make your bookmark stand out by adding stickers, stamps or drawings, and even a tassel or ribbon. Have fun and be creative!
5. Decorative Notebooks

The decorative notebook is a school essential as well. Four simple materials, such as patterned paper, glue, and stickers can make a plain notebook look beautiful. Measure and cut the patterned paper accordingly. Add embellishments, including stickers and ribbons, and you have a beautiful notebook.
6. DIY Personalized Pencil Case

Transform an ordinary pencil case with some paint or markers. Then, let your imagination go wild – come up with a design, write your name, put a special quote, or stitch a pattern with thread. When you're done, let it dry and use a spray sealant to protect it. Your unique pencil case will make school even more fun – no plain store-bought one needed! So get creative and show off your style!
7. Apple Mason Jar Pencil Holders

Surprise your teacher with a unique, homemade present! Make their desk stand out with these colorful Apple Mason Jar Pencil Holders. They are sure to love such a special gift.
Supplies
mason jars
bright red spray paint
scrapbooking paper for paper leaves
twine
Directions
Once you've gathered the supplies, give your mason jars two coats of paint. Then, attach paper leaves with twine for a whimsical look. Finally, add sharpened pencils for the perfect finishing touch.
8. Crayon Noticeboard

This colofur noticeboard is a great way to keep on top of projects.Hot glue crayons around a framed cork board. Decorate with ribbon and add painted shapes.
9. Scrabble Art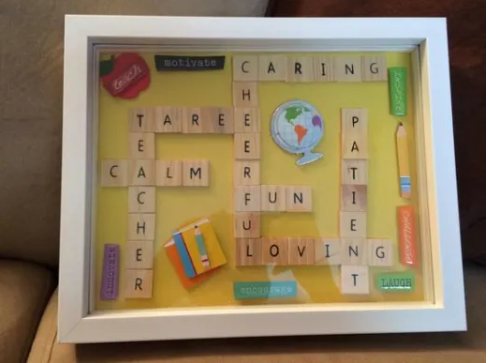 Scrabble tiles are easily purchase and you can make some wonderful projects with them especially when framed in a shadow box.
10. Pringles Can Pencil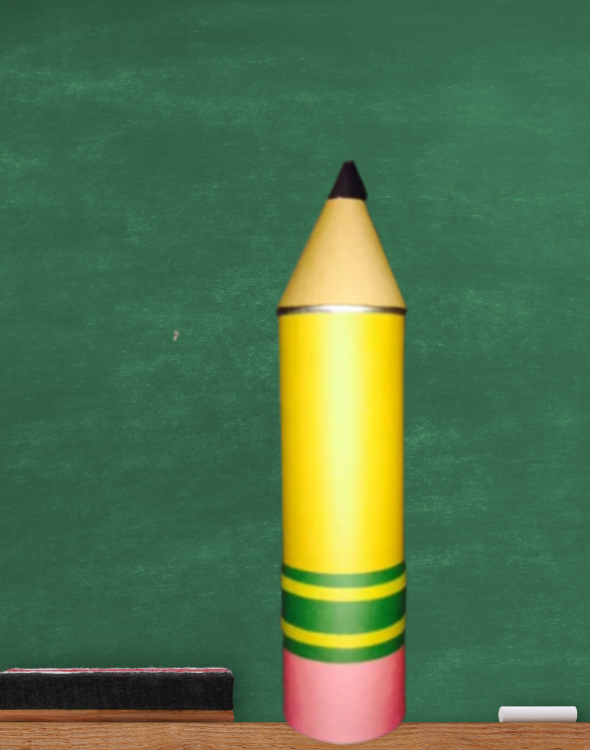 Recycle old Pringles cans and turn them into pencils by wrapping them in yellow paper. You could use it for storage on your desk.