DIY Pickle Jar Snowman
It's time to get creative with an easy upcycling Christmas craft! Transform an old jar or two into a charming snowman with just a few dollar store supplies. Mod Podge and epsom salt add a frosty touch, while a winter scene in the jar makes your snowman a magical snow globe. With a beautiful and unique décor piece like this, your home will be ready for Christmas in no time!



1. Crackle Effect Pickle Jar Snowman

The crackle effect pickle jar snowman can become a unique holiday decoration or a fun winter craft project. To achieve the desired effect, begin by painting your jar white and allow to dry. Then paint a layer of Elmers glue onto this. Once this is dry add a layer of chalk paint for the crackle effect.onto the jar to create the crackle effect and allow to dry. Complete by painting features such as coal eyes and a carrot nose. Finally, adorn with a little Christmas hat and a scarf.
2. Light Up Snowman Jar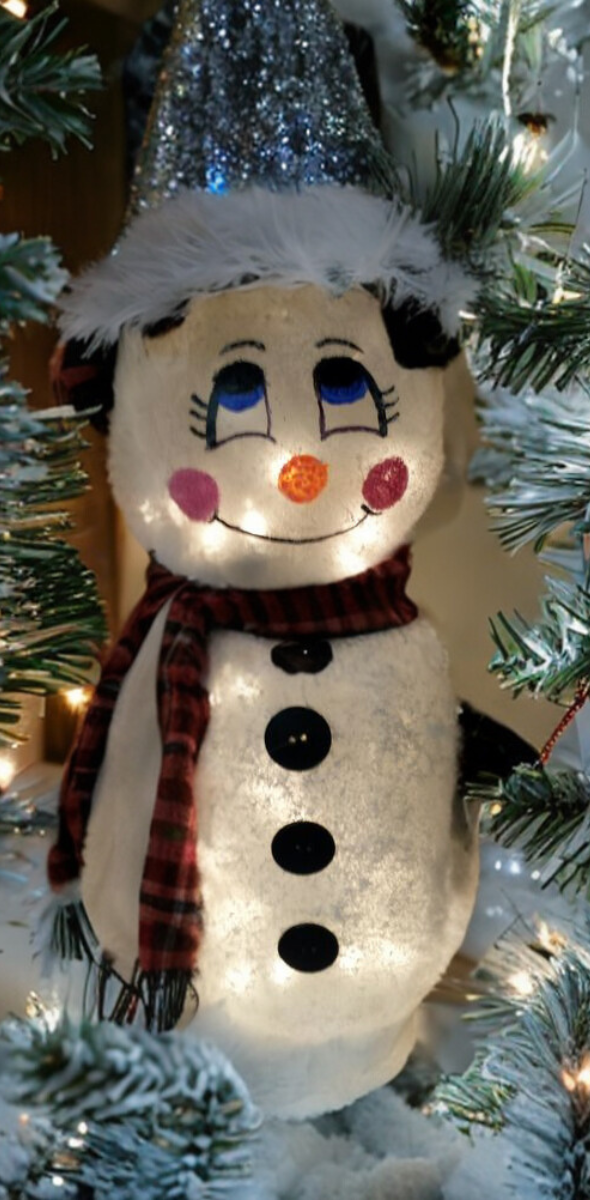 Make your holiday decor merry and bright with this fun and easy Snowman Light! Begin by painting the outside with white tempera paint using a sponge.  Once dry, you can paint with glue and add Epsom salt for texture. Then, add a string of white fairy lights, glue on the head, and you've got yourself a festive, winter-inspired addition to your home!
3. Diorama

Make a whimsical diorama in a jar and add it to your festive decorations! You can use an angel figurine for the inside. The jar is turned upside down, and the angel is glued onto a circle of cardboard with Epsom salt for snow. You can then secure this with glue and paint a fishbowl like a snowman's face for the head. Cut up some socks to make an adorable hat and scarf.
4. Mr & Mrs Frosty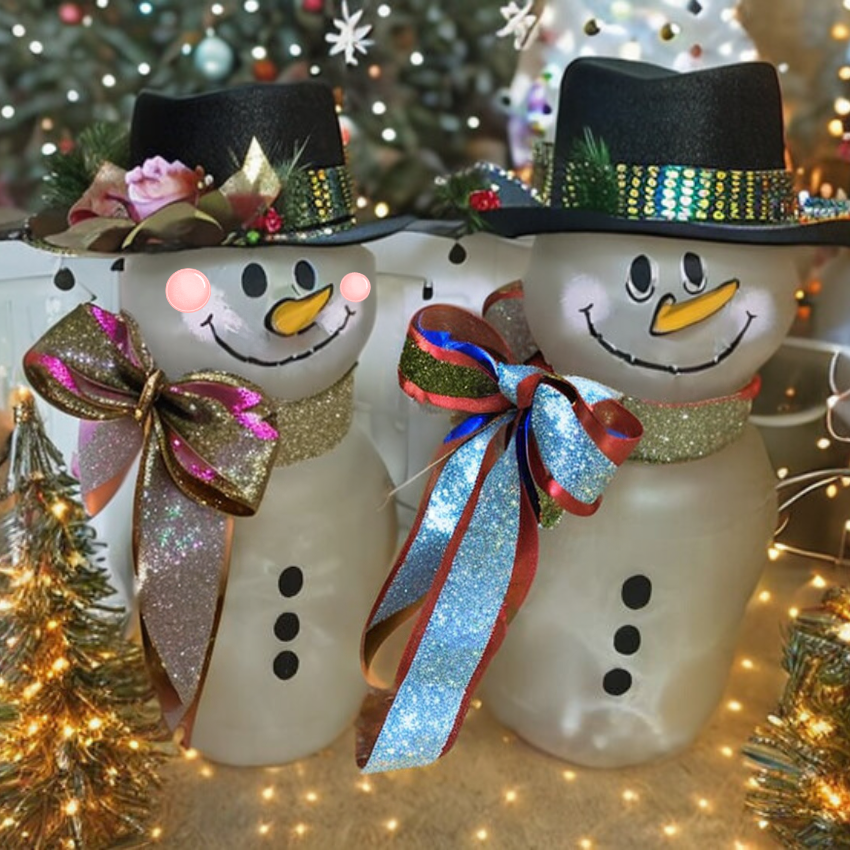 Spread some holiday cheer with Mr and Mrs Frosty The Snowmen! Start by painting the jars white and once it's dry, add the details such as coal painted buttons and then the face features. Add top hats and finish with a pink bow for Mrs Frosty and a blue bow for Mr Frosty.
5. Snow Family

Bring winter fun home this holiday season with a unique gift idea: create a snow family! Choose from a snow mom, dad, and children – and personalize them with paint or lights. Top the snow creations off with accessories like scarves and hats to truly make them stand out! It's a gift that your family, friends, and neighbors are sure to enjoy!
6. Elf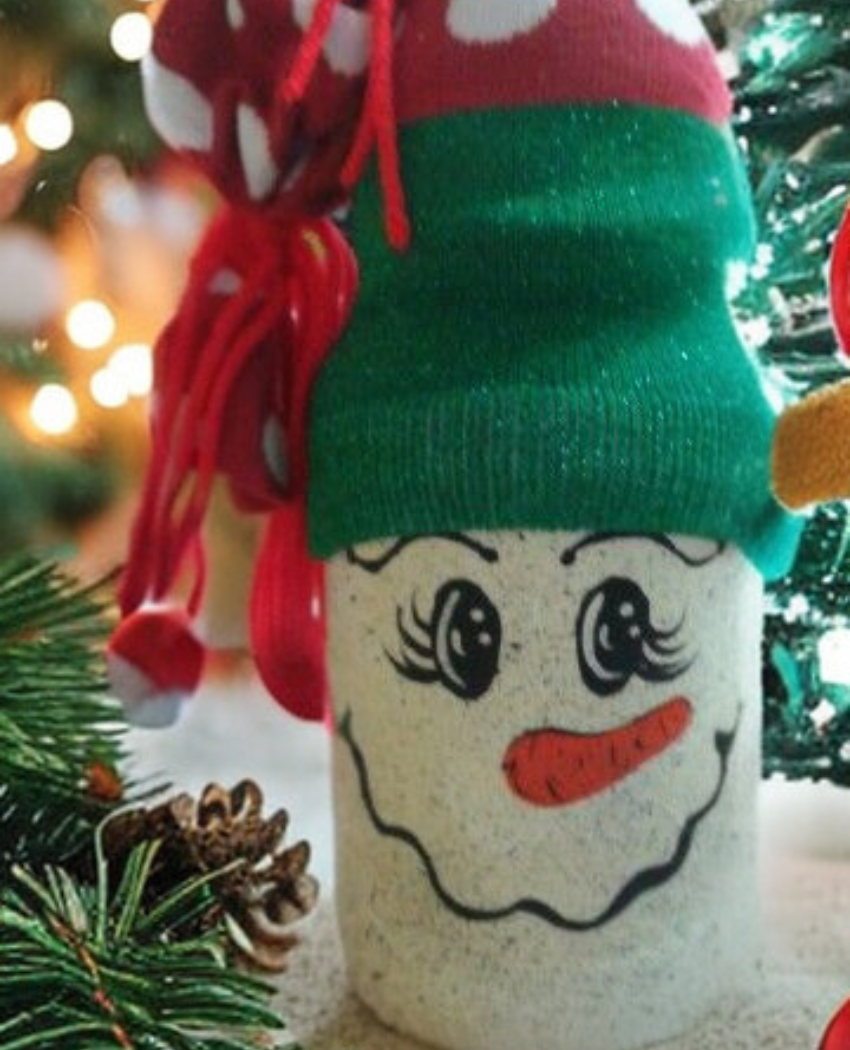 Create an adorable Elf snowman by painting your jar with white and then sprinkling glitter over this.  Allow the jar to dry, then stretch a festive sock over the top of the jar's opening for a cute hat look. Finish it off by adding a face to the jar with black paint. Have fun and create a whole collection of these special decorations, or even a Santa-themed one!
7. Repurposed Jars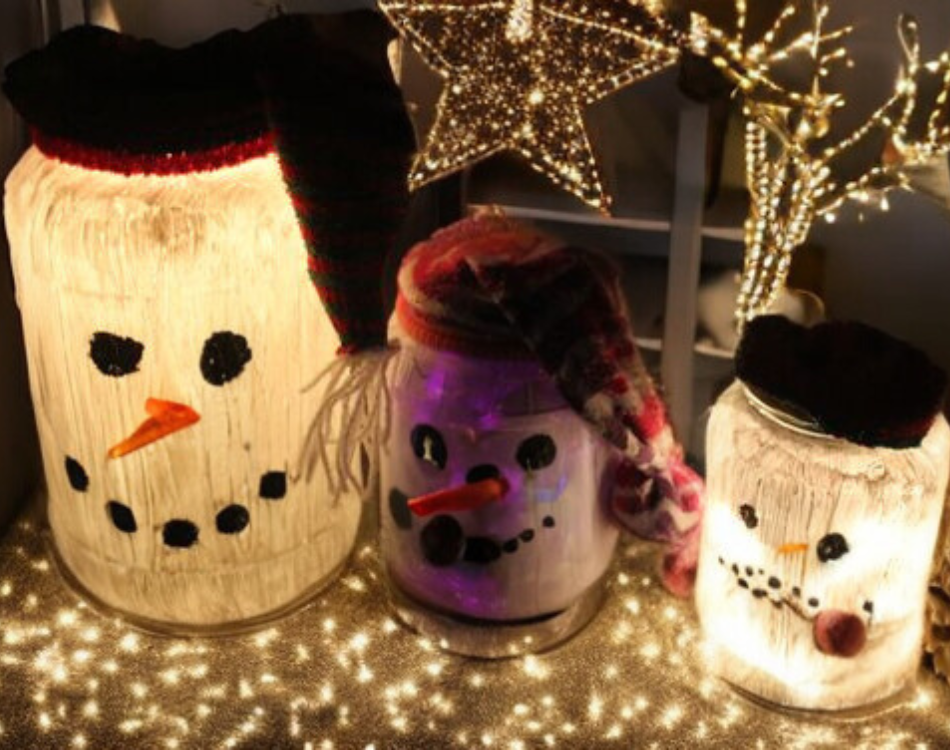 Transform old jars, paint, and socks into beautiful snowmen this Christmas! With just a few simple supplies, you can give your home some festive, winter charm. Get creative and add your own personal touch to these homemade decorations. Once you are happy with the finished creations you can place somewhere nice to look at such as the window ledge.
8. Jar Sock Snowman

For a quick and easy way to transform your jar into a snowman – simply cover with a white sock. You can use a foam ball for the head. Start by hot gluing a round shape to the jar and allow to dry. Then pull a white sock over this. Glue buttons on the sock to make the snowman's buttons. You can add additional details, such as a scarf, hat, or mittens to personalize your snowman. Once you've finished, display your pickle jar sock snowman proudly for all to admire.
9. Sparkly Hat

This is such a quick and easy decoration and kids can easily make this too. Paint inside of the jar white and paint face on outside of the jar. Hat came from Hobby Lobby Put battery operated tealight inside so it glows!
10. Snowman Jar Lights

Festive and fun, these Snowman Lights from Jars are the perfect decoration for your Christmas! With plenty of personality, they are created with one gallon, one quart and one pint jar. The heads are crafted from glass bowls of varying sizes, painted with white acrylic paint and a brush. For a glossy finish, each component is coated with crystal clear gallery glass paint and mini lights are nestled between the head and body. Use a bit of duct tape to keep the head and body together – the resulting scarf hides the seam. Complete the look with colorful hats, scarves, pine cones and pine branches.