Valentines Wine Bottle Crafts not only do they make great centerpieces or vases – they are perfect for adding some romantic decor to your home. Up-cycle wine bottles with spray paint with primer, twine, and a bow for a very fancy look. Cut a heart shape with a cricut machine out of contact paper. Paint the bottom of the bottle first with a pink or red color. Then place the contact paper on the bottle (individual hearts up top, and the cutout strip at the bottom). Then spray with a light pink all over, leaving a strip of dark pink in the middle. Attach twine using a hot glue gun.

Wine bottles can be decorated to make fun decor for your home by including signs such as 'be mine' for Valentine's Day for example.

Make a lovely centerpiece with 3 bottles that have heart windows. Fill them with Valentines themed candy. You can add heart picks as an extra decorative filler.

This dreamy bottle reminds me of floating heart clouds in a winter sky.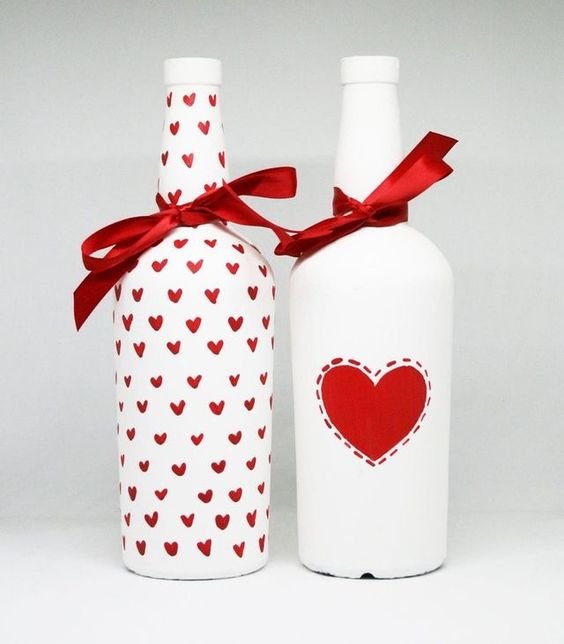 A bottle painted white with red hearts looks so delicate and inviting.
DIY Valentines Wine Bottle Video
We have included this tutorial compilation from Mindless Crafting. It's a great step by step how to decorate your wine bottle for Valentines Day.

For a vintage look – paint a bottle in pink and add a burlap heart with a glue gun.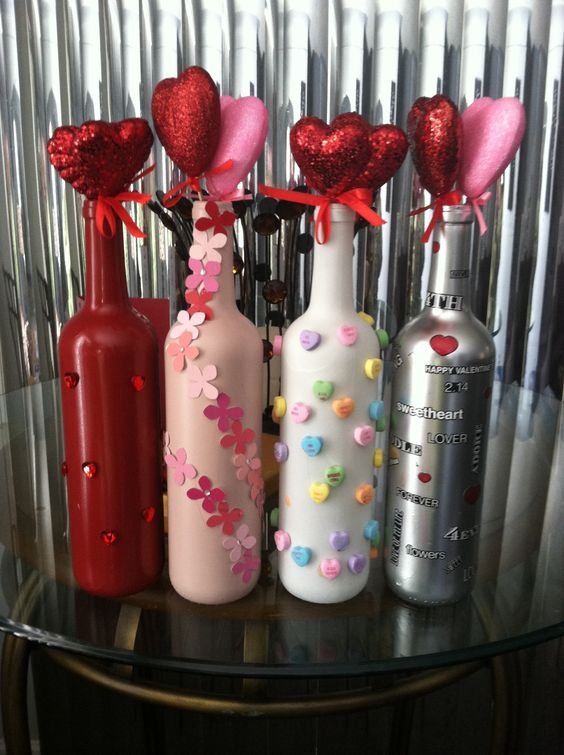 These funky bottles would be great to add to your Valentine's day table decor.

Stung by the Love Bug on a wine bottle.
Check here for more Valentines Decor Ideas.