Halloween Classroom Door Decor can really help schools get into the spirit of the holiday! Teachers and students alike can join in the fun, by competing to create the best-decorated door. Kids will love walking into school to see the ghoulishly delightful door that's been created just for them. It's a great way to build camaraderie and instill a sense of team spirit. Halloween classroom doors provide an exciting and creative way for schools to celebrate the frightful season.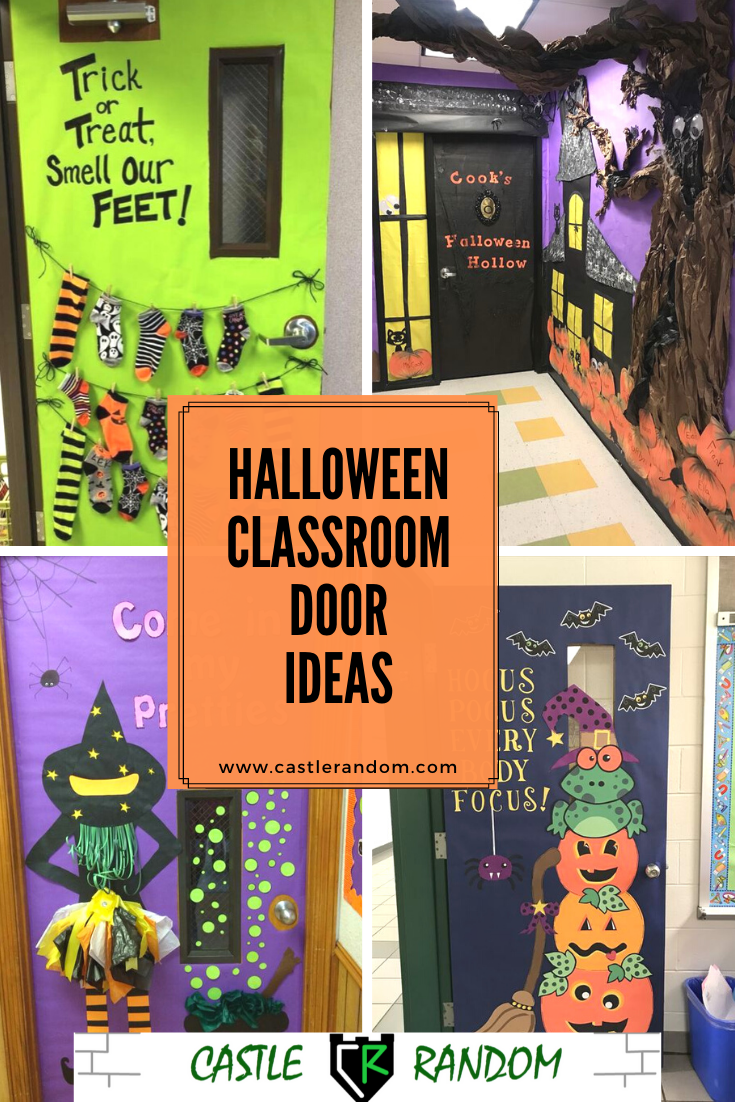 1. Frankenstein's Monster

Make your classroom door spooky this Halloween with the classic Frankenstein's monster! Cover your door with a sheet of green paper or fabric to represent the monster's skin. Use two large yellow circles for the eyes and add some black circles inside for a spooky look. Place the eyes near the top of the door for a menacing gaze. Cut silver foil or construction paper into two strips for the monster's bolts and attach them  Make a mouth with a black and white paper pieces. Add a mop of black yarn or strips of black crepe paper for the hair and create scars and wounds with black construction paper or paint.
2. Wicked Witch

Add some magical charm to your door with a wicked witch theme! Use purple paper as the backdrop. Then cut out silhouettes of  spiders and put them up around the door. To bring it to life, add a witch silhouette with lots of different papers bunched together at the skirt for a 3D effect and a cauldron full of mysterious ingredients. Use green or orange crinkle paper for the "brew" and add a spider or eyeball for extra spookiness. Your students will love stepping into your spooky Halloween world!
3. Spooky Spiderweb

Create a spooky atmosphere this Halloween with a Spiderweb door decoration! The process of creating the Spiderweb decoration can be fun and inspiring too. Brainstorm with your class and come up with different ideas, materials and techniques to make the decoration. Your students can craft intricate spiderwebs, or go for a more abstract approach. Let their imaginations fly!
4. Pumpkin Patch

Show appreciation for the classic symbol of the humble pumpkin which makes this holiday so special. Decorating your classroom door with a pumpkin patch is the perfect way to do this! You can make the pumpkin patch extra special by including mini pumpkin bunting and writing each students name on the individual pumpkins.
5. Monster Mash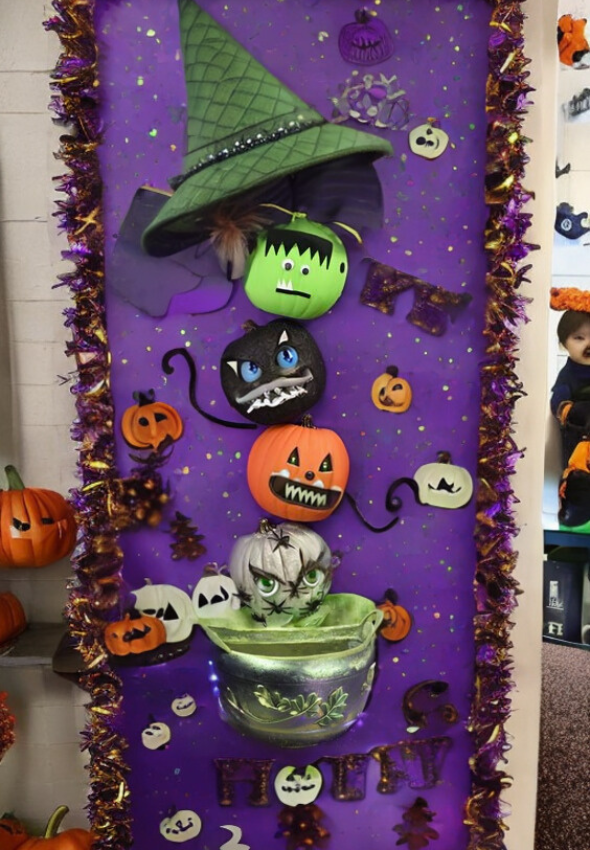 Celebrate different monsters to create a fun door theme! You can mix and match different creatures to make your classroom door look amazing. For example, you could pair up Frankenstein-like fur, zombie-inspired stitches and vampire fangs with a werewolf's furry ears and devilish grin. Or, you could design a ghoulish creation with a mummy's body, a witch's head and spider legs. Your students can contribute ideas and use their imaginations to create their own monsters. Get ready to have a spooky Halloween!
6. Batty

The kids all had fangs for the pictures, the owl was made out of several different fall cardstock and the teacher's picture. The girl bats had purple glitter around the faces and base of wings and the boys all had green glitter around the face and base of wings. Moon was made out of glitter paper.
7. Haunted House

Turn your classroom door into a fun and spooky spot! You can create a haunted house right in your very own classroom by using dark colors like black, gray, and even deep purple. Add in cobwebs, spider webs, and some creepy fake spiders to make it even more spooky. To make your door stand out, consider adding tombstones with spooky messages and ghostly figures made out of white paper. You can extend the design onto the classroom wall and make creepy trees from brown paper.
8. Candy Corn Door

Transform your door into a spooky and sweet treat this Halloween with a candy corn decoration! All you need is some orange, white, and yellow craft paper plus eyes to create this festive look. Let the candy corn door take your Halloween celebrations to the next level this year!
9. One Eyed Monster Door

Turn your classroom into a spooky scene with a Giant Cyclops Monster Door! Featuring a big eye ball decal and some colorful paper to create a portal to another realm, your students will be thrilled with this exciting Halloween decoration.
10. Mummy Door Decoration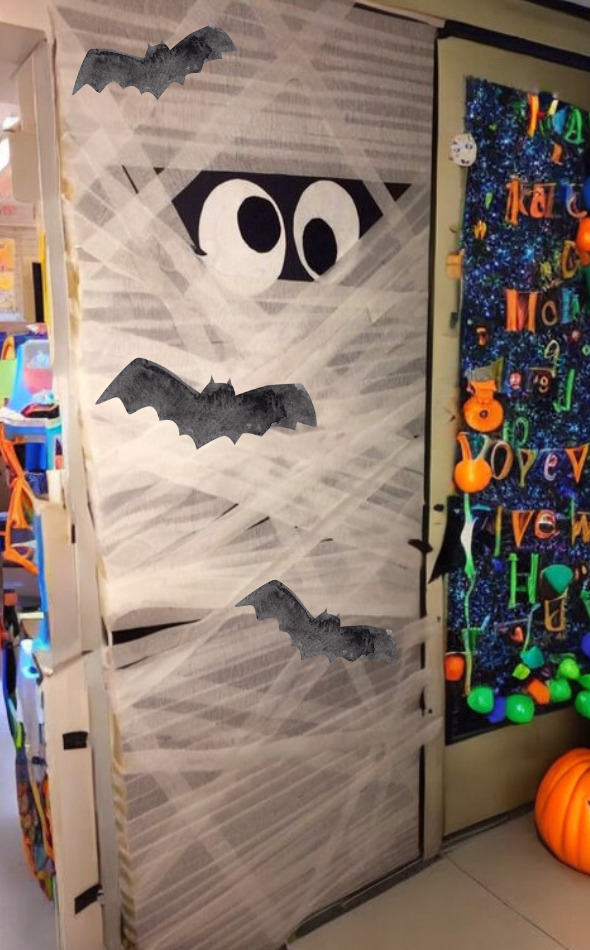 To make the mummy door decoration, you'll need 3 black poster boards, 1 yellow poster board, 4 white crepe paper streamers and 1 roll of Scotch invisible tape. Also get some Blue Tack. Cover the door with the black poster board. Save one strip of it for the eyes. Use Blue Tack, not tape, to hold it up. Trace 2 eyes with a lunch plate and a glass for the pupils. Place the eyes 1/3 down from the top of the door. Start to criss cross the white streamers around the eyes. Tape the streamers to the door.There you have it! A ghoulishly good-looking mummy door decoration for your class.