When the weather gets milder, we want to be outdoors as much as possible. Sometimes it can be hard to encourage kids to get off their devices to go outside and have some good old fashioned fun in the yard. The best way to do this is to make it fun for all the family by making games that everyone can be included in. For example you can make glow in the dark bowling with water bottles and glowsticks or you could have hopscotch. They are also great ideas if you are looking for fun activities for an outdoor birthday party too. You can make your own games or purchase outdoor versions of your favorite games online. So check out these ideas for inspiration!

PIPE BALL GAME: 4″ diameter pvc pipe, cut with 30° angle on one end & straight cut on other ends. Lengths of pipes(from flat bottom to very tip of the 30°angle): 4 @ 14″, 3 @ 11.5″, 2 @ 9″, 1 @ 7″. Paint pipes. Set the cut pipes in a triangle bowling pin shape(tallest in back 4, 3, 2, 1). Mark spots on adjoining pipes, drill ¼" holes, use zip ties thread into holes & attach, cut off excess tie, repeat until all are secured. Attach numbers to represent point values. 3 tennis balls for each.

DIY Back Yard Hopscotch. Interesting things to do out there in your backyard. So simple and cheap to make, and you could play them with your kids or family anytime.

These DIY football posts would make a great backyard game for the summer. A little PVC pipe, buckets, cement and paint!
DIY Outdoor Activities Video
We have included this video tutorial from HGTV to show you some more ideas.

Yardzee is a brilliant oversized yard game of dice which can be adapted to other games that use dice.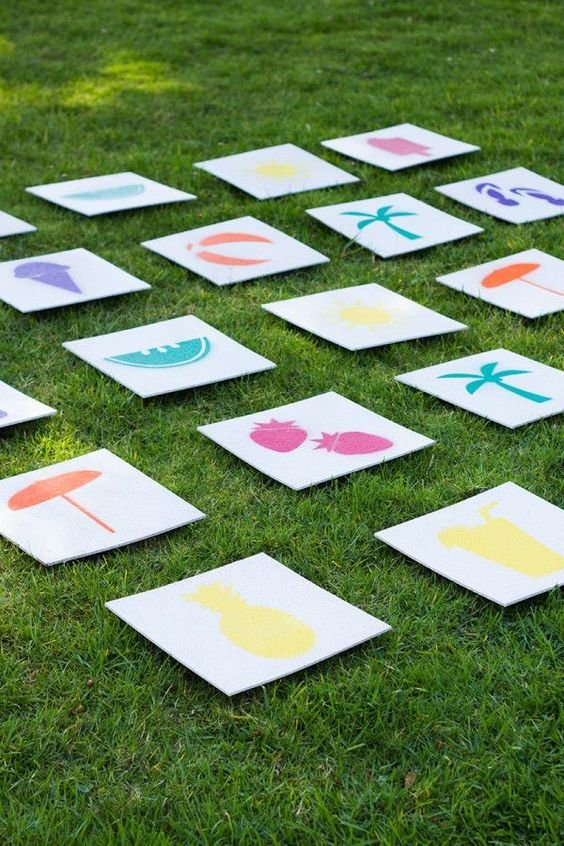 Cute giant DIY lawn matching game! Get creative with your images!

Glow in the dark Bowling would such a fun summer evening activity. You'll need Plastic bottles ,Glow sticks,Water and A soccer ball. Fill six plastic bottles with water and then some activated glow-sticks to each bottle. Use a different color of glow-stick for each bottle.
Screw the lids on tight and then play!

PVC Pool noodle Frisbee toss.

Make an outdoor game board from painted pavers – it could be used for both Checkers and Chess simply by giant pieces.

Backyard Bowling is a fantastic idea. Purchase some wood and make your own lane in your backyard.
source imgur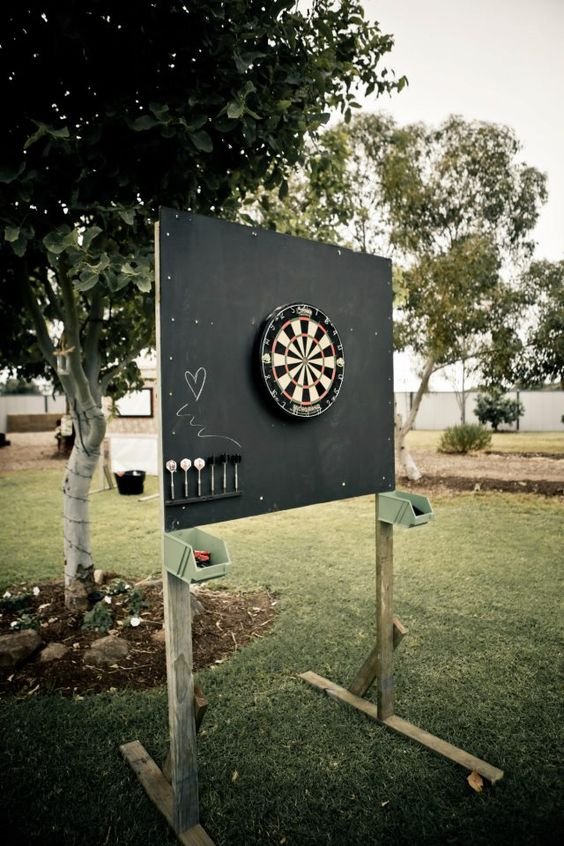 A DIY Dart board is a great way to pass an afternoon outdoors.

Make monopoly on the streets with chalk.

If hopscotch is too simple then make this Advanced hopscotch which gives you instructions such as "hop like a bunny".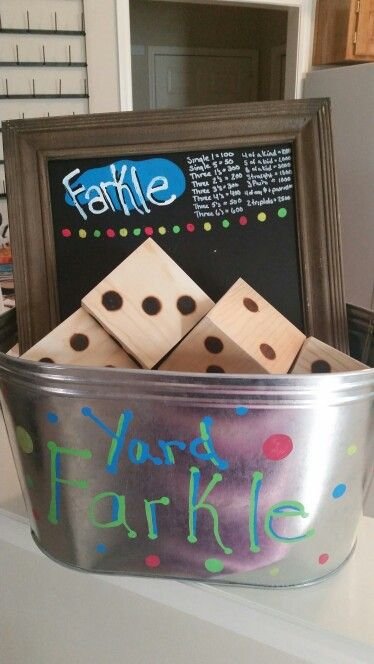 Yard Farkle – Use a drill press to counter-sink the spots- use pencil first!Make sure to sand the edges!

What about outdoor scrabble where the whole lawn is the board!

Ring Toss!