If you've ever found yourself pondering other uses for empty wine bottles then these ideas will help you out. DIY wine bottle crafts are perfect for channeling your inner eco warrior. To top that off they are easy on your purse, and will spruce up any interior or exterior in a flash. There are so many possibilities of occasions and gifts that these craft ideas are ideal for. You could use them for DIY gifts, such as Easter gifts, Mother's Day gifts, or a best friend's birthday gift. You can also make them into vases or centerpieces as you wish.
It's easy to transform wine bottles into lovely pieces of decor for Spring and Easter. They make great lamps if you put fairy lights inside. It's also a great craft to do with kids – in fact it's a fantastic excuse to have some good quality crafting time with the family. If you want, you can use different bottles and take inspiration from these wine bottles. You can make them for any time of year – just change the color scheme to suit your season.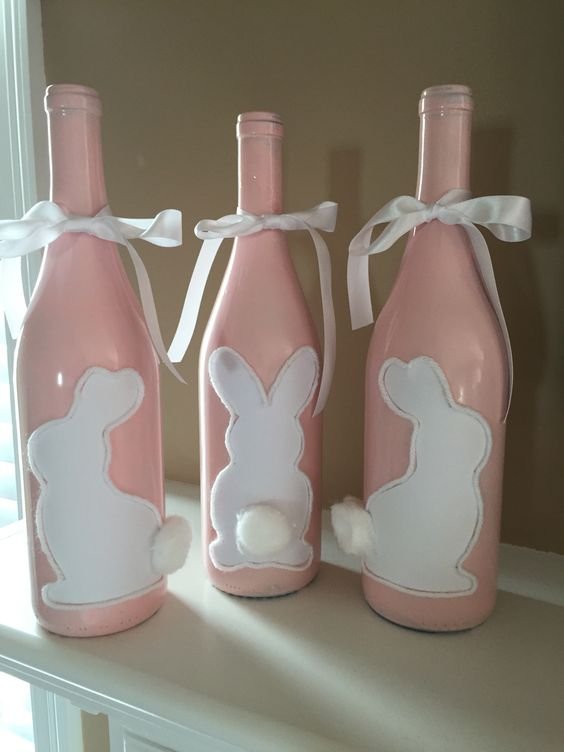 These bottles are adorable. To recreate, paint your bottles pink and trace a bunny silhouette which is then painted white. Finish by gluing white yarn around the silhouette and adding a cotton tail.
DIY Wine Bottle Easter Bunny
We have included this video tutorial from DIY with Liane. It's a great step by step how to decorate your wine bottle for Easter.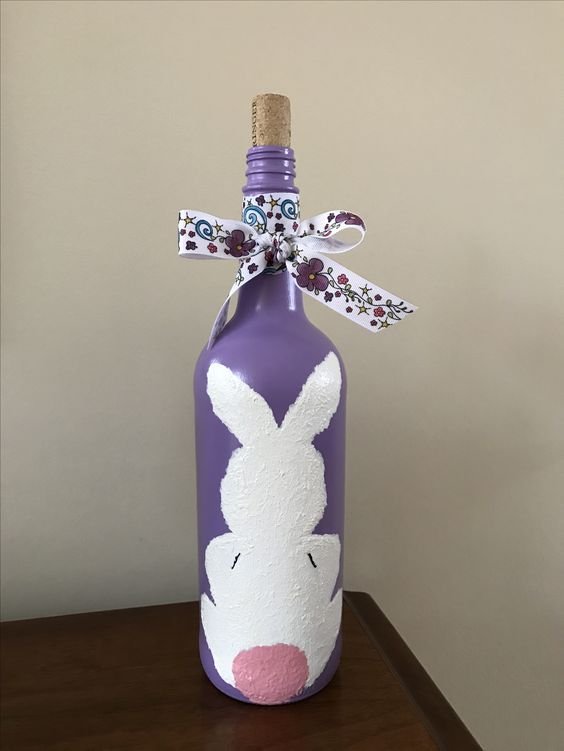 To make this, paint your bottle purple. Once dry, you can use a bunny stencil and use a sponge with white paint to imprint it onto the bottle. Tie some pretty ribbon around the top.

This rather cheeky looking bunny is brought to life with the addition of fabric ears. It will make for a fun and festive vase for your Easter tablescape.

You can add all sorts of festive creatures to your design such as a hatching chick or Easter eggs.

Make a vintage design by using patterned fabric to make bunny ears for the bottle.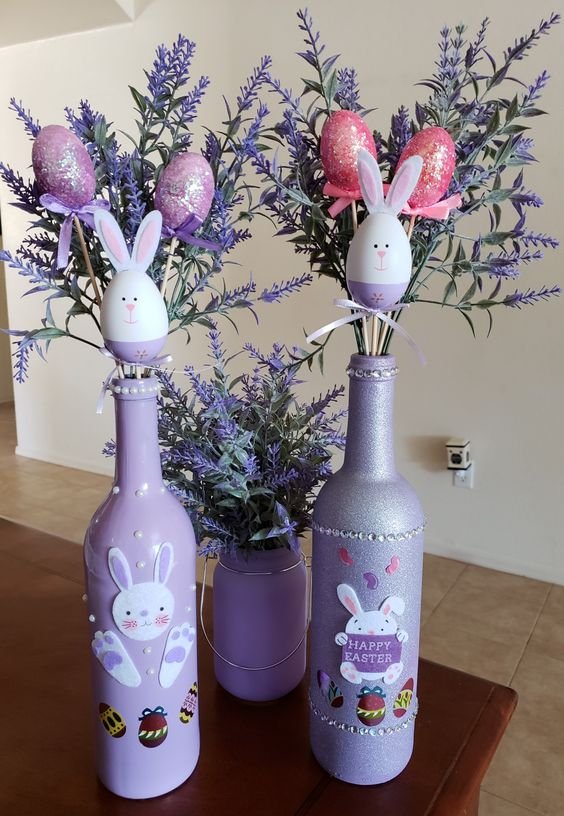 Egg picks are ideal to place in your bottle creations to add to your Easter table decor.

You can make bunny ears from all sorts of materials, this idea makes use of pipe cleaners.

An Easter lighted wine bottle will brighten any corner in your home for Spring.

These Wine bottle Easter bunnies would look great as centerpieces on your table.

Using a clear bottle would be ideal if you want to add fairy lights.

Hand Painted, Lighted, Easter Peeps "Inspired" Wine Bottle
source pinterest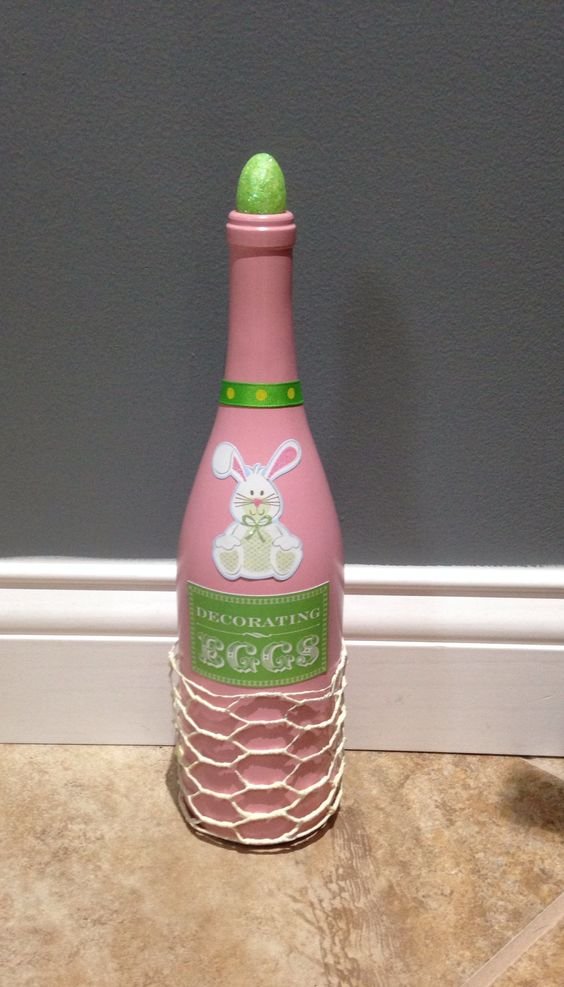 source pinterest

source pinterest

source pinterest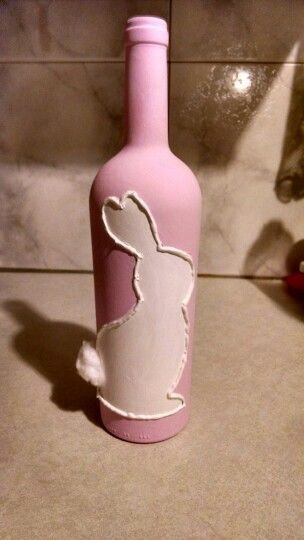 source pinterest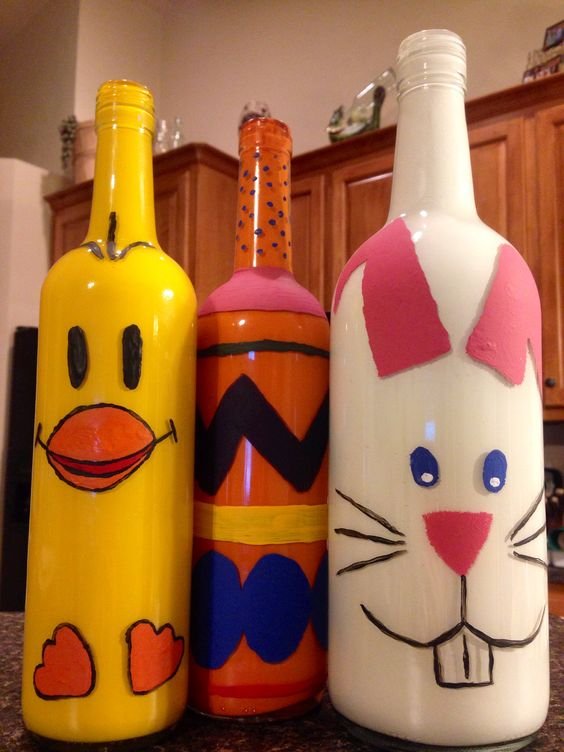 source pinterest