With July 4th just around the corner, it's time to show your American pride with a festive at-home manicure or pedicure. Whether you're a novice or a pro, there's no shortage of looks to choose from. From red, white and blue swirls, to a classic Flag design or tie-dye, take your patriotic nails to the next level with these Fourth of July Nail Art Ideas. So this 4th, impress your friends and family with your show-stopping manicure or pedicure!
1. Red White and Blue Swirl Nail Art

For a fun and groovy look try this swirly pattern on your nails. Begin with a base coat of white and allow to dry. Then you can use a fine tip brush and create swirl patterns with red and blue nail polish.
2. Feature Flag

A classic American flag design looks great on a feature nail such as the ring finger. Start with a base coat of white nail polish. Then, use a thin brush or nail tape to add red stripes to one side of each nail. On the top corner, create a blue rectangle and use a dotting tool to add white dots. To really dazzle you can paint the other nails in blue glitter. Finally, add a top coat and your patriotic nail design is ready to show off!
3. Red, White, and Blue Ombre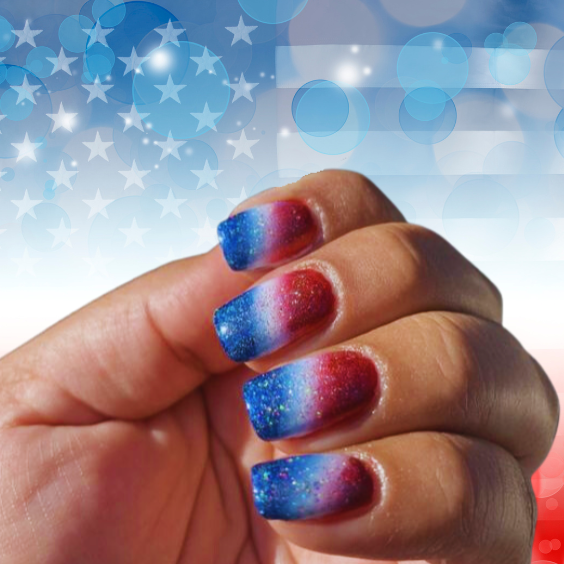 Keep your Fourth of July celebrations alive with a stunning red, white, and blue ombre design. Starting with a white base coat, apply red to the bottom of your nails and blue to the tips. With a makeup sponge, blend the colors together to create a beautiful gradient. Finish with a top coat to preserve your festive look.
4. Patriotic Polka Dots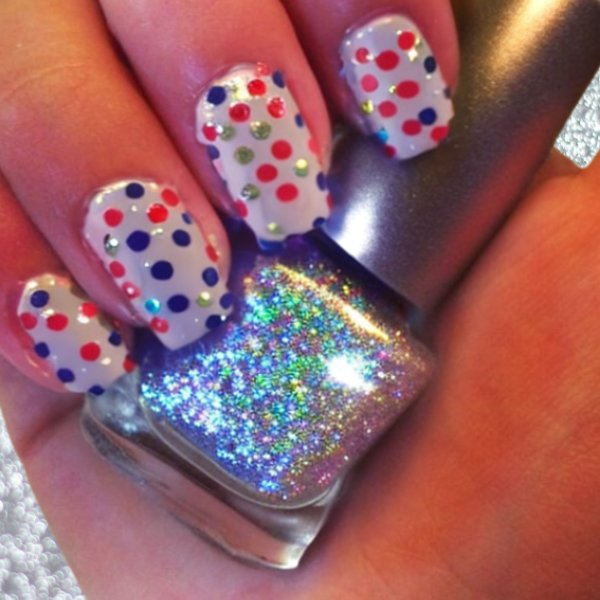 Let freedom ring with these easy and fun polka dot nails. Start with a white base coat and let it dry. Then, use a dotting tool or a toothpick to make red and blue dots on each nail. You can make them all the same size and colors, or mix it up! Finally, add a clear topcoat to seal the design. It's a quick and easy way to have a great look!
5. Flag French Tips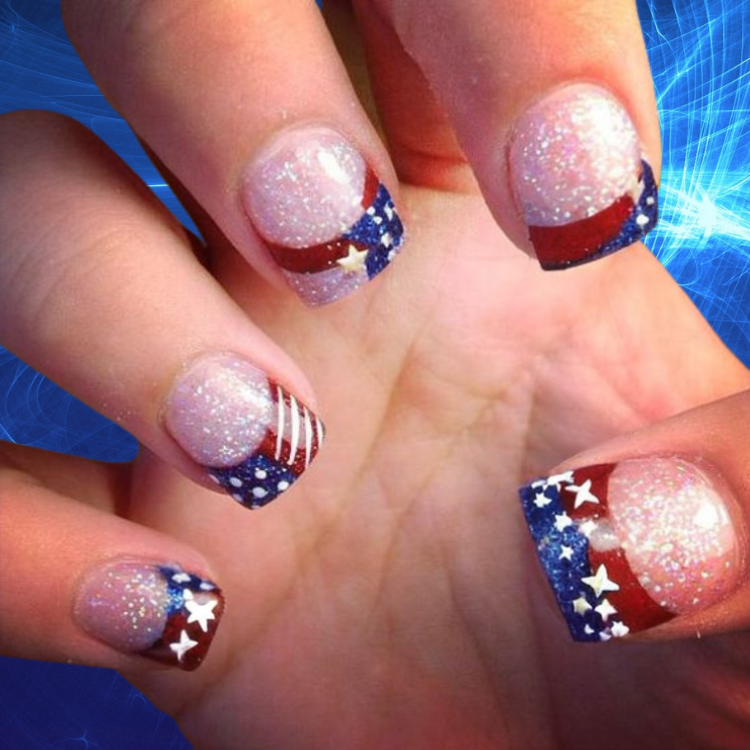 Create a stylish look with Flag French Tips. Start with a neutral or white base coat, then use blue and red polish to paint strips on the tip of the nail. Once dry you can use a fine tip brush to paint white markings such as lines, dots and stars. You'll have an elegant and subtle look to celebrate America!
6. Glittery Freedom

Paint your nails in red, white, and blue sparkles! Start by painting your nails with a white base coat and letting it dry. Then, use a thin brush to paint a layer of red or blue glitter polish on the top half of each nail. Wait until it's dry, then add a second layer for a more glittery look. You can then use a fine tip brush and white nail polish to paint stars. Finally, apply a clear top coat to keep the sparkles in place and add extra shine.
7. Striped Patterns

Liven up your next mani with this vibrant striped look! Not only is it surprisingly stylish and oh-so festive, it's easier to create than you think. You'll be sure to impress with your nail art masterpiece and bask in the compliments.
7. Fireworks Art

For those who are looking to really make a statement with their nail art, a fireworks design is the way to go. This design is all about bold and bright colors, as well as lots of glitter and sparkle. To create a fireworks explosion design, start with a black base coat. Then, using a small brush or a toothpick, create small bursts of color all over your nails. You can use red, blue, white, and silver shades to mimic the colors you see in a real fireworks display.
8. Gold Surprise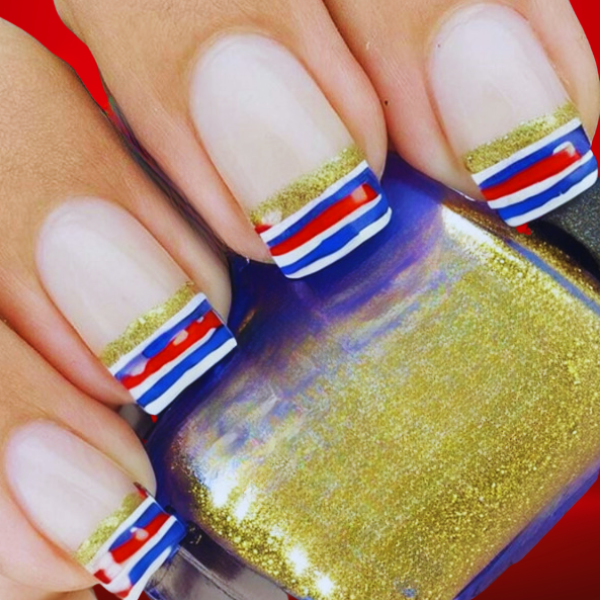 Add a pop of gold glitter for a dazzling surprise. Paint the tips of your nails with red, white and blue stripes and finish by underlining the stripes with one in god glitter nail polish.
9. Star Spangled Banner

Since stars sparkle – it makes sens to paint the star spangled banner in glittery polish. You can paint it on just one nail for a feature nail and then paint the other tips in white and red glittery nail polish.
10. Nautical

Think of the sea when it comes to Fourth of July Nail Art Ideas. Start your nautical nail look with a few anchor gems to bring a touch of the ocean to your fingertips. Choose a simple variation of two or three shades of blue and add on a few gems in the shapes of anchors – it's the perfect base for any nautical themed manicure. If you want to really make a statement with your manicure, add some sparkle in the form of silver, blue, or white glitter accents.
11. Sparkle Heart

Show your love for America by creating sparkly hearts on your nails. Start with a base coat of white or red nail polish. Then use glitter in silver, blue and red to make the heart shaped flag on your middle nails.
12. Flower Power

For a pretty twist, paint flowers in red white and blue on your nails.
13. Patriotic Gnomes

To create these adorable gnomes on your nails, you can either purchase a nail covering here, a nail stamping kit or use a fine tip brush to paint your own.
14. Half and Half

Can't decide between glitter and plain? Paint your nails in shiny blue and red and allow to dry. Then you can add glitter to the bottom half of your nails.
15. Disney Inspired

For a Disney July Fourth trip, these nails will rock your vacation.
16. Star of The Show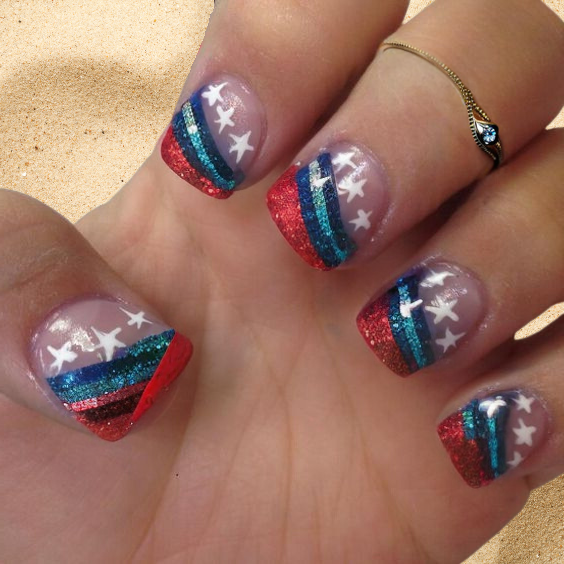 Take center stage with these glitter striped nails adorned with white stars.
17. Leopard Print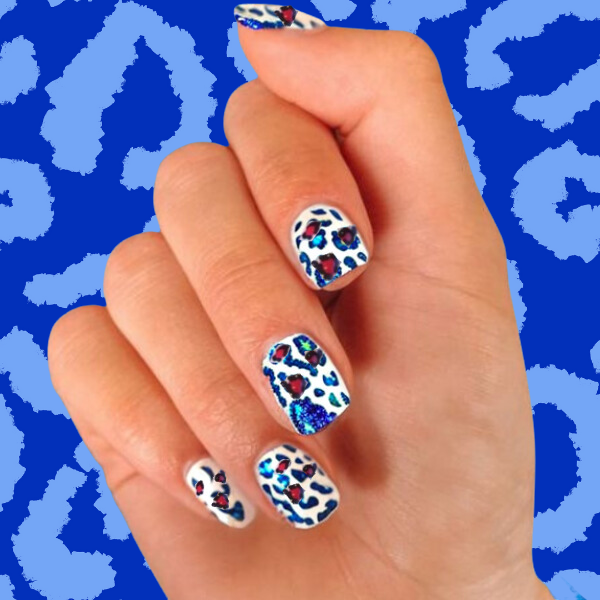 Fourth of July Nail Art Ideas can take inspiration from the animal kingdom. Your nails will roar with patriotic pride when featuring this red and blue leopard print design on a base of white.