Show dad some love this Father's Day with an affordable and thoughtful gift basket filled with his favorite things! From golfers and fishing enthusiasts, to pit masters and coffee aficionados, you can pick out something special that Dad will be sure to appreciate. To make the most meaningful gift, consider his favorite hobbies and pastimes or favorite snacks. Give the perfect presents that Dad will use and enjoy for many years to come.
1. Daddy Diaper Duty

For a new Father – this is a great idea. Put together all the things he needs to change baby's diaper including nose pegs for those extra smelly ones! If this is a recent addition then you could also include a bottle of bubbly to celebrate.
2. Car Wash Kit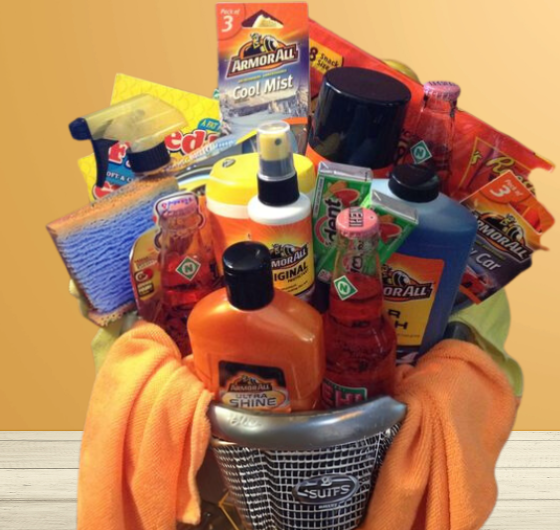 Help him keep his beloved car in top condition by gathering all the necessary car care supplies in a handy tub. from car wash soap to tire shine, and make sure he's got everything he needs to keep his car spotless.
Supplies
Supplies
Tub
Car wash brush
sponges
Handy Sham
Wet Wipes
Car Polish
Make it an extra-special gift by adding some extra pampering items, like a plush car-washing mitt or car freshener! Your Dad will be thrilled to know that you value his commitment to taking excellent care of his car.
3. Jackpot

Let Dad know how lucky you feel to have him as your father by making him a basket of scratch off tickets and place a sign on the front that says "We hit the Jackpot".
4. BBQ Bucket

Dad will love getting his grill on this Father's Day with this BBQ Bucket—loaded with everything he needs to cook up a delicious feast for the family! Whether he's an experienced chef or just starting out, this gift has all the essentials for a perfect BBQ.
Supplies
bbq tool set
Shredded paper
BBQ Gloves
condiments
spices
napkins & tablecloth
wooden skewers
Directions
Start by gathering together items the special dad in your life will appreciate. Once you have the items ready, add a few inches of shredded paper at the bottom of the gift basket to provide a base for your display. Then, carefully arrange the items in the way you think dad would enjoy.
5. Pampering

Transform Dad's Father's Day into a day of pampering and relaxation with a personalized gift basket of his favorite toiletries plus a few extra indulgences. Show Dad you care with luxurious products for his well-deserved "me time." The perfect way to make him feel extra special.
Supplies
Gillette Razor set
Hand Towel
Dove Antiperspirant
Loofah
Shaving foam
Shower Gel
Shampoo
Moisturizer

6. Golfers Basket


Give your dad a golf-themed gift basket made from a practice ball bucket! Topped with moss for a grassy feel, the basket is stocked with everything the golf enthusiast needs to hit the green: golf balls, Golf Goo (a great ointment for any sore spots), two bottles of water to keep hydrated, two trail mix snacks for energy, golf wooden tees as well as a new kind of tee, and sunscreen to stay safe in the sun. It's the perfect gift for Dad!

7. Man Cave Bucket Idea


If Dad has his own place he likes to retreat to, then why not fill a bucket with all the supplies he might enjoy such as beers, snacks and games.

8. Treat Bouquet


Make Dad an edible bouquet that he can't resist this Father's Day. You'll need a bucket or pail to put everything into as well as floral foam and skewers which you can attach the treats to.

9. Fishing Themed Gift Basket


Surprise the fisherman in your life this Father's Day with an unforgettable gift basket. Get a cooler and load it with everything he needs for a successful day of fishing, including line, lures, bobbers, fish attractant, and sunscreen. To make it extra special, add in his favorite beverages and snacks. Finish the gift with a bow and it's sure to be a hit. With a thoughtful Father's Day fishing basket, you can show your appreciation for a hobby your dad loves to enjoy.

10. Gadget Wreath


If Dad loves his gadgets, then make him a wreath using a garden hose and use ribbon to attach different things he would like.