There is nothing like the sound of the waves and the warmth of the sand to create an idyllic backdrop for a beach wedding. But what really sets a beach wedding apart is the unique decorations. Get ready to be inspired with our list of 10 stunning beach wedding centerpiece ideas. From seashell bouquets to tropical fruit displays, these ideas will add a touch of magic to your big day. Let's get started!
1. Starfish and Coral Decor

Add special coastal charm to your beach wedding with starfish and coral! Your guests will love the eye-catching display. Use starfish and coral in fun ways, by arranging starfish, coral, candles and seashells in a jar with beach grass.
2. Candles in Conch Shells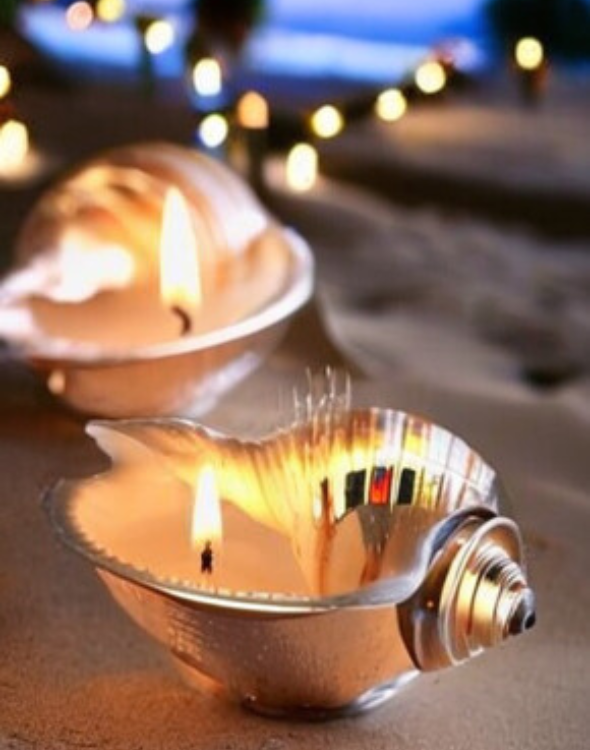 With candles in conch shells, you can bring the magic of the ocean to your special day. Use colored or white candles that match your theme. Each shell can be personalized with the guest's name.
3. Driftwood Centerpieces

Incorporating driftwood to your table decor will really look amazing. You can find it in all different sizes. Try adding candles, shells, or white flowers to really make it stand out. You can also add some plants or succulents to give it a nice texture.
4. Nautical Lanterns

Using Using lanterns and seashells are a great way to give a beachy vibe to your wedding centerpieces. Lanterns come in different styles, like this Lighthouse Centerpiece, and can be filled with candles, shells, or even sand. You can also add rope or netting to complete the nautical look.
5. Beach-Themed Terrarium

Add a special beach feel to your wedding reception with beach-themed terrariums. Purchase some fish bowls and fill them with plants, sand and decorations like shells, starfish and coral for a really nautical look.
6. Water Beads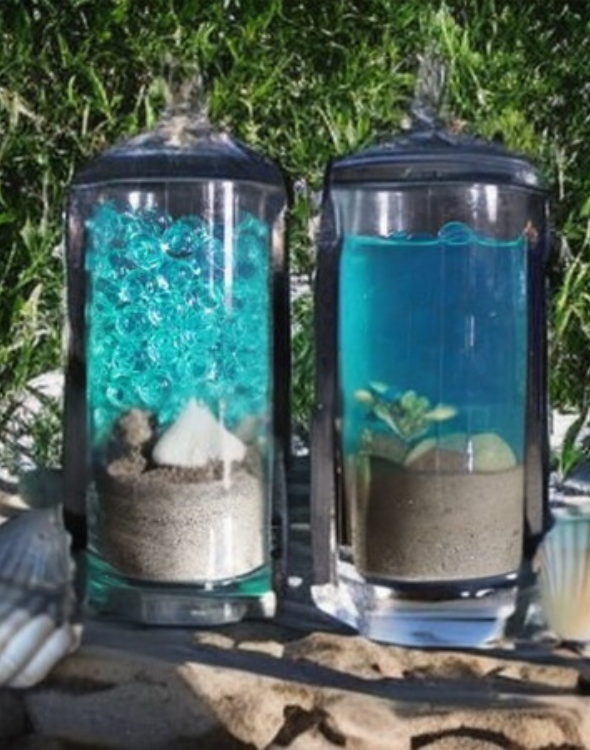 Sand, shells and waterbeads in teal or blue create stunning, budget-friendly centerpieces for beach weddings. Save money, while still making an impactful statement. Submerge the beads in water to add a delicate, translucent effect, or keep them dry to showcase their stunning crystal-like appearance. No matter what, you'll wow your guests!
7. Message in a Bottle

For a special and personalized touch to your beach-themed wedding, consider a "Message in a Bottle" centerpiece. Fill the bottles with sand, shells, or colorful flowers that match your wedding's colors. The message in the bottle could actually be a photo of the happy couple.
8. Beachy Bouquets

It's important to consider the flower arrangements you will include with your table decor. Beachy bouquets can easily be made by incorporating coral colored flowers and beach grass.
9. Succulents

Add some succulents and cacti to glass vases to decorate your beach wedding tables. After your wedding, you can use the succulents to decorate your home or give them away as favors to your guests.
10. Nautical Rope Details

Adding nautical details to your centerpieces such as rope will really help to tie your beach wedding theme together.
11. Decorative Fisherman Netting Wrapped Jars

Add a beachy feel to your special day with stunningly decorated mason jars! Use plain or colored jars, whichever you prefer. Cut the netting to size (with extra for overlap), glue one side, and let it dry. Once it's ready, carefully wrap and glue the other side, and trim away any excess. Finally, adorn the jars with hemp twine around the rim, secure with glue, and fill with sand or shells and pop a tealight inside to light the table.
12. Flowers in Shell Centerpiece

A Shell Centerpiece made of flowers is an amazing way to decorate a room. You can go for a bright, airy look with lots of colors, or a romantic, bold look with just white blooms. It's special because of the contrast between the shells and the flowers. Their beauty comes together to create an eye-catching and stunning look that your guests will love.
13. Message In A Bottle Table Numbers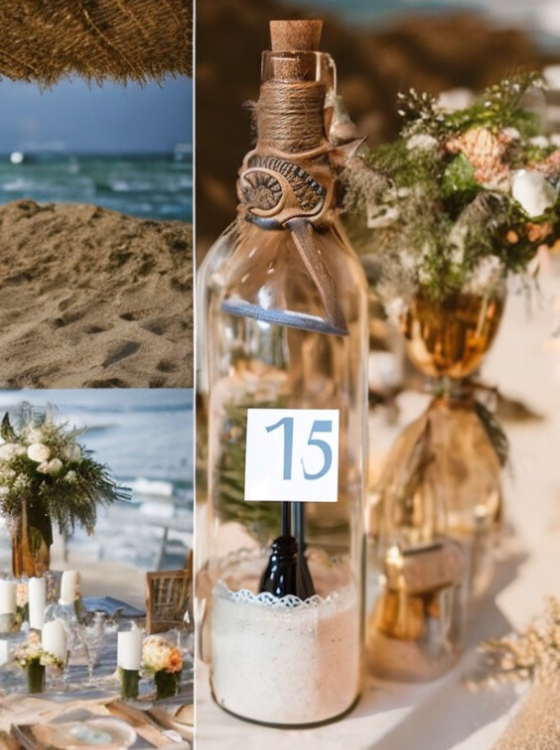 For the crafty brides out there, this centerpiece has the potential to be show-stopping! All you need is empty wine bottles, a bit of sand, and you can print our your table numbers to put inside the bottle to make it look like a message in a bottle.
14. Starfish Wedding Cake Topper

For the beach-loving bride and groom, this starfish cake topper is sure to add a special touch to your special day! The groom is outfitted with a top hat and black bow tie, while the bride wears a veil with a beautiful flower crown. Perfect for wedding cakes and adds a lasting impression at any destination wedding.