If you're looking to hold a fun and colorful event, then these Candy Birthday Party Ideas will be exactly what you're looking for. Think of rainbows, giant lollipops and gingerbread men. In fact, a lot of these ideas would work great for Christmas decorations too. You can make Candy props with cardboard and colorful paper. So let your imagination run wild and get ready to host the sweetest party ever!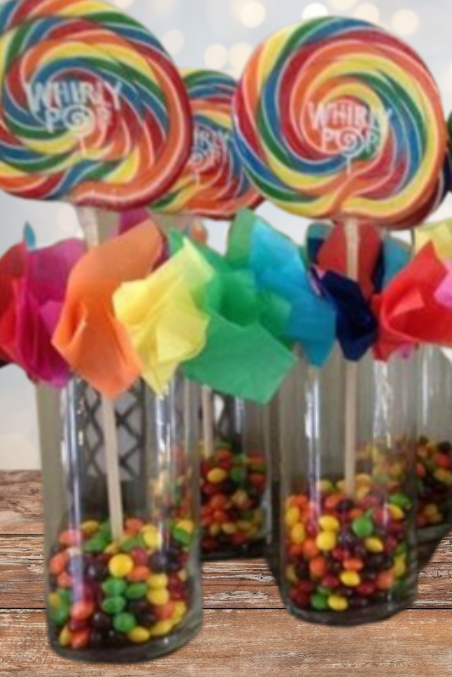 Make a candy inspired Centerpiece by filling vases with jelly beans and adding big lollipops.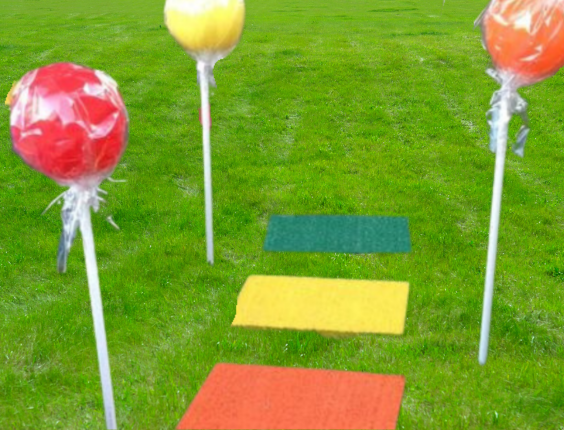 Giant Lollipops can be created by spray-painting dowels and add balloons and colored cello and ribbon. Use foam sheets for the tiles.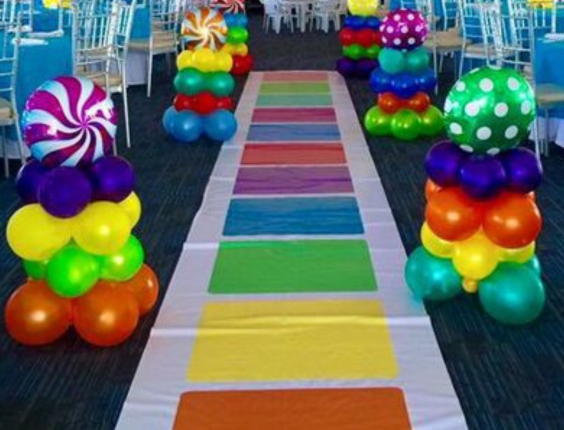 Colorful Balloons will really make a fine display for your party.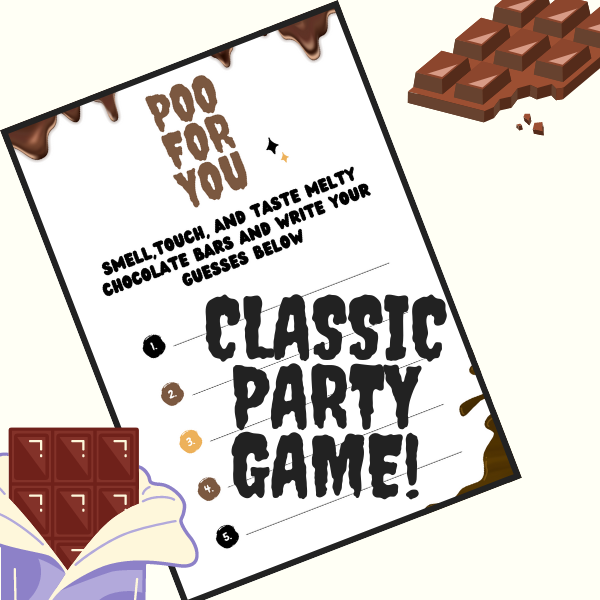 Candyland Party Decorations
We have included this video tutorial from TheTayraPerezProject to show you some more ideas.

Make Giant sweets by painting white paper plates like peppermint candies and covering them with cello wrap.

Easy DIY photo booth. Make a simple PVC frame and hung inexpensive plastic tablecloths in a rainbow of colors.

Direct your guests with a candy location sign. To make it you'll need Cardboard, Scissors,Red tape and Wood for the the pole and stand or a pvc pipe. Start by wrapping your pole with red tape to make it resemble a candy cane.  Then cut your cardboard into arrows. Next, paint them your chosen colors and then add place names to the arrows.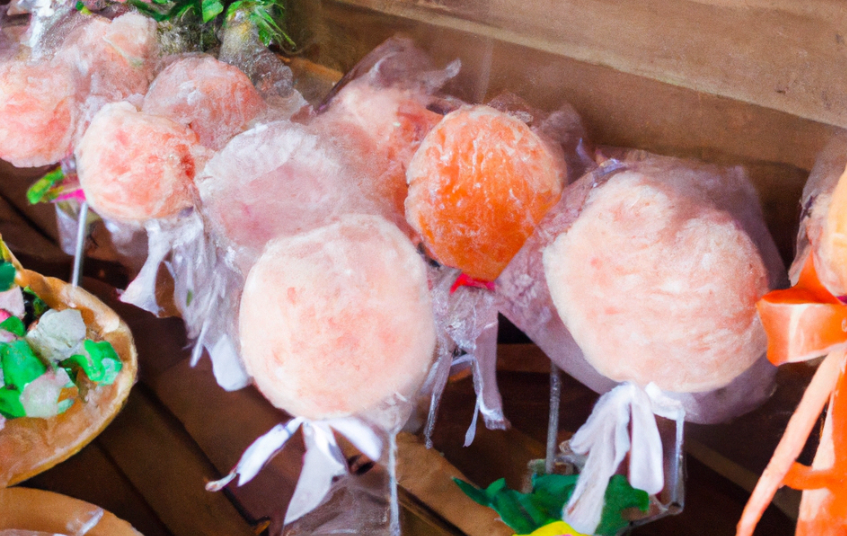 Put together a Dessert Table that's laden with Candy.

Incorporate fun Balloon Arches.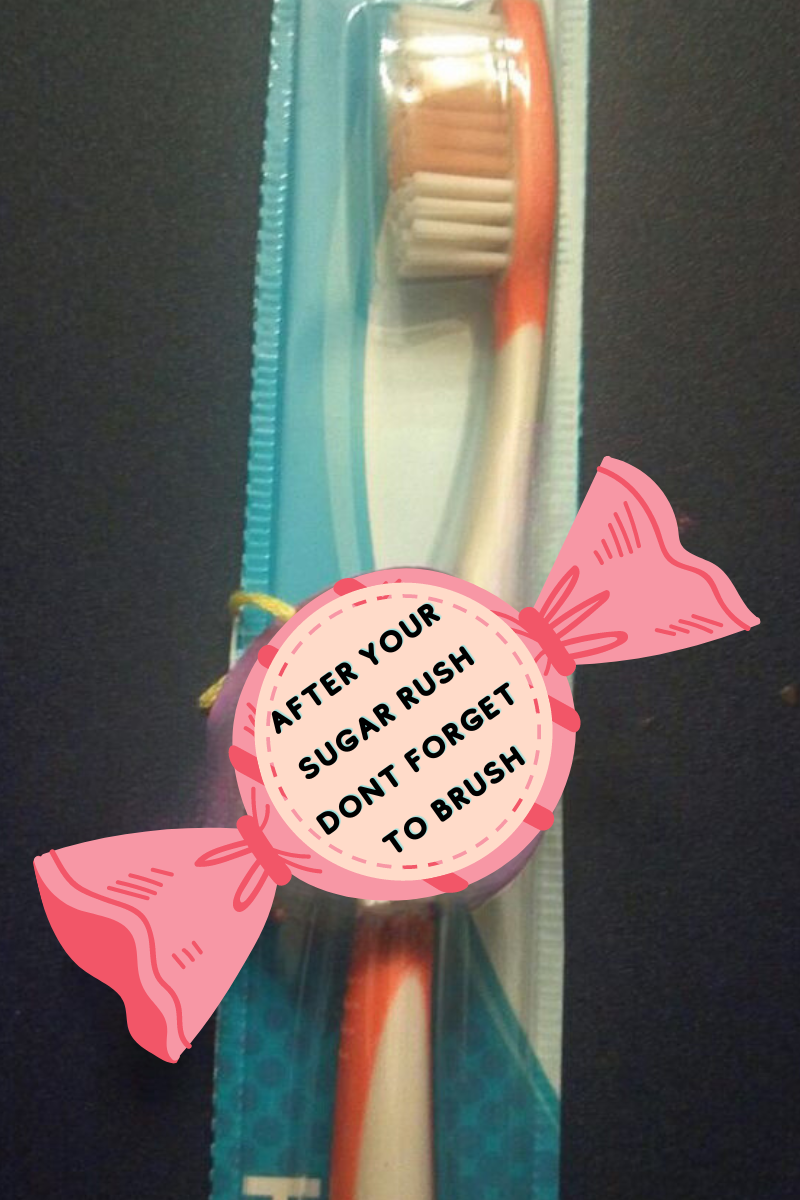 After all that sugar these Candyland theme favors of toothbrushes will definitely be put to good use. See printable tags
Candy props-any box or cardboard tube can be paper wrapped or painted to resemble candy

Make Colorful Paper "candy" decorations by wrapping cardboard tubes with paper. Fill each with nice treats or toys.

Huge cupcake out of a lampshade, foam board, pillow stuffing, foamy glitter stickers, and a red ball(cherry) from the Dollar Tree!! Too cute!!!